흠.. 이게 무슨 소리지..
어떻게 e-paper로 동영상을 돌리겠다는 거야..

일단, 기술로 보면 Reflective Type LCD를 사용한 것으로 보이는데,

(1) 풀컬러지원, 밝은, 일반 LCD
(2) 저전력소모 a low-power, 기본 컬러 transflective 모드
(3) 극도의 저전력 소모(a very low-power), 태양광하에서 읽을수 있는 reflective e-paper 모드


이해가 잘 가지 않는 것은 e-paper mode임.
신문이나 일반적인 인쇄매체의 경우 반사율은 60 ~ 70% (선명하게 보인다는 얘기)
아마존의 Kindle 은 반사율이 40% (e-ink社의 e-paper는 동일)
하지만 reflective type은 반사율이 대개 10% 전후 (잘 안 보인다는 얘기)

즉, 낮은 반사율로 인해서 햇빛 아래에서나 볼 수 있지,

조도가 낮은 실내에 들어오면 손전등 켜야 보인다는 얘기인데...

LCD 반사율을 20% 까지 힘들게 끌어올린다고 해도,

전력소모가 확 늘어서는 AMOLED나 큰 차이가 나지 않을 정도로 험악한 전력 사용을 보여줄텐데..
고로 이 기술은!
정말 나와봐야 알고, 측정해 봐야 믿을 수 잇음.
'절전성&가독성 ↑' 넷북용 e잉크 스크린 등장
기사입력 :

2009.06.01 08:10
Dan Nystedt, Martyn Williams
픽셀 Qi가 출시하는 넷북용 e북 스크린에 업계의 관심이 쏠리고 있다. e북 감상에 적합한 가독성은 물론, 절전성까지 대폭 개선되기 때문. 픽셀 Qi는 컴퓨텍스 전시회에서 이를 시연할 계획이다.
OLPC의 전임 CTO 마리 루 젭슨이 설립한 픽셀 Qi는 지난 29일 이같이 밝히며 새로운 스크린이 '3qi'라고 명명됐다고 전했다.
회사에 따르면 10.1인치 크기의 3qi는 3가지 모드에서 동작할 수 있는데, 하나는 e북 등을 읽기 적합한 흑백 e잉크 모드이며, 나머지 두 개의 컬러 모드는 실내 및 태양광 아래에서 적합한 모드와 웹 서핑 및 동영상 재생에 적합한 모드다.
회사 측은 e잉크 모드는 특히 백라이트 전원을 차단함으로써 절전성도 대폭 개선시킨다고 설명했다.
젭슨은 이번 3qi 스크린이 올해 말쯤이면 넷북 등에 탑재될 수 있을 것으로 예상한다며 이미 다수의 제조사들과 협력하는 단계라고 말했다.
이어 넷북에 탑재되면 킨들 등 기존의 e북 전용 리더들과 가격은 유사하면서도 훨씬 다양한 기능을 제공할 수 있게 될 것이라고 자신했다.
또 초기 단계에는 기존의 LCD 스크린에 비해 약간 높은 가격에 공급될 예정이지만 대량 생산과 함께 빠르게 저렴해질 것이라고 전했다. editor@idg.co.kr
Pixel Qi have finally demonstrated their clever 3Qi screen, which mixes together indoor and outdoor readability together with an e-paper mode. The same panel is used in both halves of this picture: on the left, it's set to full color saturation with its backlight on, while on the right the backlight is off and the panel is in e-paper mode. The latter will be incredibly power-frugal, as e-paper only draws power when changing the display, not to maintain an image.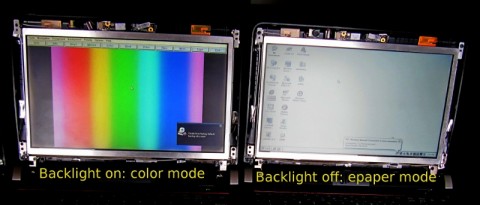 After the cut, outdoor readability demonstrated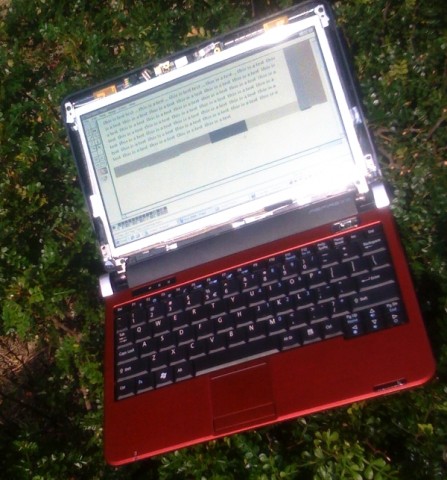 In the picture above, the same 10.1-inch panel is shown in a modified Acer Aspire One, and is clearly readable despite the direct sunlight. According to project leader Mary Lou Jepsen, this 10.1-inch panel will be available in the fall for netbooks and e-book readers.
Pixel Qi have previously confirmed that they intend to offer 3Qi panels with touchscreen capability. It's unclear whether this particular display (which lacks a bezel in both images) has that functionality.
[via GottaBeMobile]